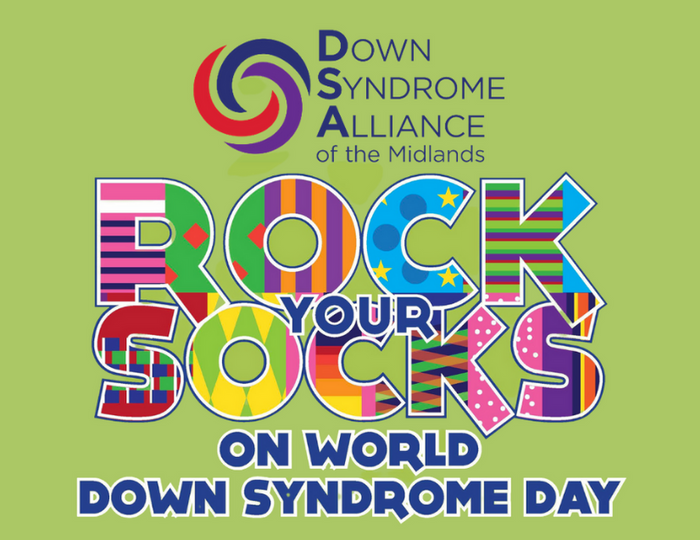 On March 21, Rock your Socks with Down Syndrome Alliance of the Midlands in celebration of
WORLD DOWN SYNDROME DAY!
 
3/21, World Down Syndrome Day, was selected to signify the uniqueness of the triplication (trisomy) of the 21st chromosome which leads to Down syndrome.
 
The Down Syndrome Alliance of the Midlands will have socks for purchase to show your support and advocacy for the rights, inclusion and well being of people with Down syndrome in our schools, community and around the world.
 
At only $2 a pair, a whole school, classroom, organization, team or business can spread awareness together.
Order Deadline: March 7th
 
Socks must be picked up on one of the following days at the DSA Office:
3/13 Saturday 10:00am-2:00pm
3/15 Monday 9:00am-5:00 pm
3/16 Tuesday 1:00pm-8:00pm
If you work with students within an educational or learning setting, view our Disability Awareness Toolkit. This toolkit includes videos, age specific lesson plans and other resources to promote disability awareness within your classroom.
Join our facebook Event for updates! Rock Your Socks
Download an order form to help organize a bulk order:
Click to download Organization Order Form
Click to download School Order Form
---
Frequently Asked Questions:
What size are the socks? We have two sizes available- youth and adult. Adult socks fit most teens/adults as well as older children and youth socks we recommend for ages 4-7.
March 21, 2020 falls on a Sunday, when should our school celebrate? Totally up to you! Your school can have their Rock Your Socks Day Friday, March 19th, Monday March 22nd, or any other day- up to you!
More questions? We are happy to help! Email kruse@dsamidlands.org or call at 402-999-6606