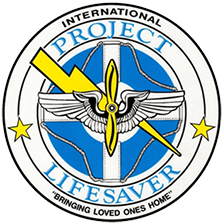 PROJECT LIFESAVER - Bringing loved ones home. 
Down Syndrome Alliance of the Midlands is proud to announce our involvement in the Nationwide Project Lifesaver Program, in partnership with the Omaha Police Department and Autism Action Partnership. The Project Lifesaver Program will be offered free of charge to individuals with Down Syndrome thanks to a generous grant for Union Pacific.
Project Lifesaver is a rapid response program that uses radio frequency tracking technology designed to locate at-risk individuals that suffer from cognitive impairment issues who may wander away from their caregivers and become lost.​

Individuals with Down syndrome living in the Omaha Police Department jurisdiction, who meet the eligibility requirements, are fitted with a device (bracelet or ankle band) that would allow officers to track them should they become lost. The officers are equipped with locating devices that utilize radio waves to locate the transmitters that the program clients are issued. The Project Lifesaver program involves a pro-active approach to identifying persons who are at-risk of wandering and provides a timely response to save lives and reduce the potential for injury.
Project Lifesaver is operated internationally by public safety agencies.
​
​How does the program work?
Members enrolled in the program wear a bracelet that contains a battery-operated transmitter with a unique identifying number that emits a tracking signal. If the member wanders away or becomes lost, the care-giver notifies CMPD by calling 911.
The Missing Persons Unit and Patrol officers respond to the wanderer's area. A handheld mobile antenna that is attached to a receiver is used to pick up the member's signal, thus locating the person.
​
Who can enroll in the program through the Down Syndrome Alliance of the Midlands?
Any child or adult with Down syndrome who:
Lives in the Omaha Police Department Jurisdiction
Has wandered away from a caregiver in the past or there is a fear the individual will wander in the future;
Has a caregiver who will be able to perform a daily check and log of the equipment;
Will can wear the bracelet at all times.

Project Lifesaver is a free voluntary program. However, the bracelets will be issued to those residents who meet the eligibility requirements. In order to participate, caretakers must agree to assume the following responsibilities:
Test the client's radio transmitter battery daily.
Check the condition of the bracelet daily.
Notify DSA's Program Coordinator Amanda Clark promptly if there are any problems with the equipment. Phone - 531.375.5791
Most important, immediately call 911 if a Project Lifesaver client goes missing.
When a Wandering Event Happens
Call 911 to report your loved one missing. As soon as you find that your loved one has wandered, do not wait to call.
Missing Persons Unit detectives and Patrol officers will respond to the call for service to begin the search for your loved one. Trained officers will respond to the location and begin searching for the missing person using Project Lifesaver radio-frequency tracking equipment. Responding Officers and Missing Persons Detectives will need as much of the following information that you can provide.
Full name and age of the loved one?
What location was the loved one last seen?
How long since the loved one was last seen?
If missing from a residence, has the home, yard and immediate surroundings already been searched?
Have they wondered before? Where were they found before? Do they have a favorite place to go?
What medical condition or disorder does the loved one have?
Does caller have the Project Lifesaver client identifier code?
Physical description? Clothing description?
Project lifesaver should be considered a tool to assist in taking care of your loved one not a solution to taking care of them. DSA will be responsible for changing the batteries each month. Transmitters that are determined to be defective will be replaced at no cost by DSA.
When traveling, you can check the Project Lifesaver website to look for a member agency and contact information of your travel destination.
Don't wait to call 911 when a wandering event occurs. OPD will respond no matter what. OPD will respond to a wandering incident whether or not the wanderer is a Project Lifesaver participant.

If you believe a Project Lifesaver Bracelet is right for your loved one, please email DSA's Program Coordinator, Amanda Clark, clark@dsamidlands.org or call 531.375.5791.
What if my loved one is not a good match for PROJECT LIFESAVER, but I am still concerned about him/her leaving safe settings?
If your loved one has is not a good match for PROJECT LIFESAVER, WANDERFLAG is another option. A WANDERFLAG is part of a police database that stores photos and information about individuals prone to wandering from safety. Should an individual go missing, officers can learn about the individual's needs, preferences, triggers, and any other information that could expedite a search and reunification.
​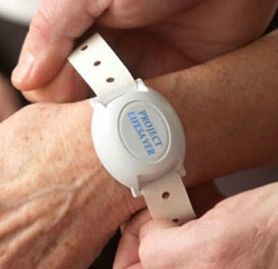 This program is funded by a generous grant from the Union Pacific Foundation.