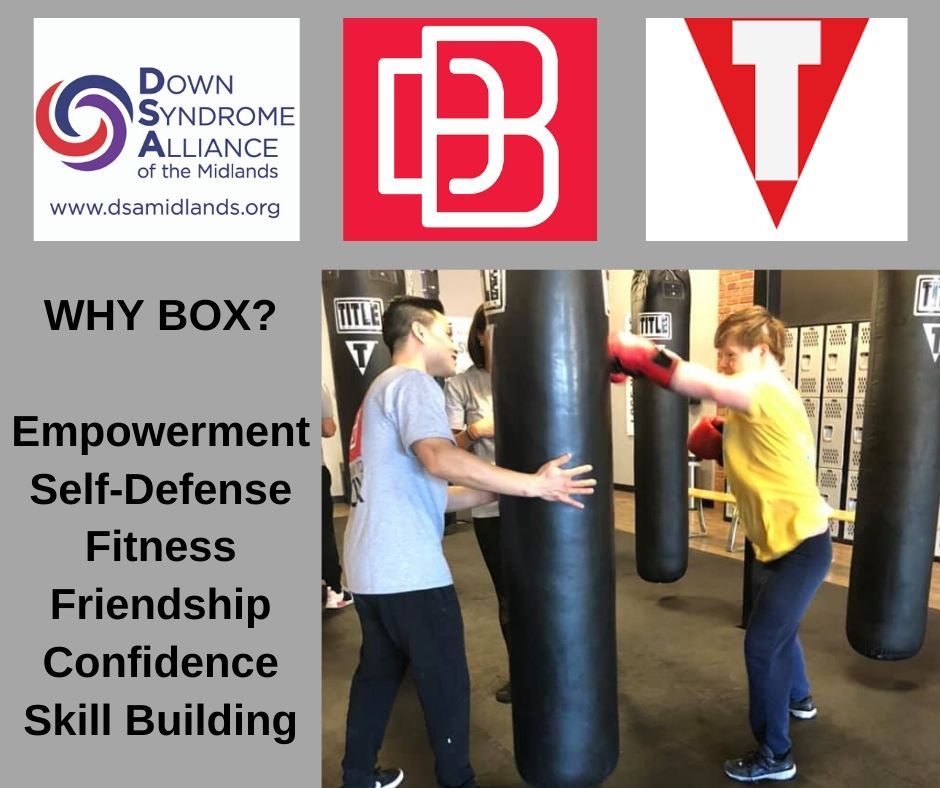 Down to Box provides customized curriculum to individuals with Down syndrome in order to help develop their fine and gross motor skills to advance their physical and mental health. Down to Box teaches participants techniques which increase their confidence levels while increasing their athletic ability. Our weekly boxing programs also serve as a social group for participants, to engage with their peers and develop friendships.
This is a 12-class (weekly) program in partnership between DSA and Down to Box and affiliated with Title Boxing - new sessions added. 
Tuesdays, beginning this Summer on May 19th, 2020 from 7:15 p.m.-8:15 p.m. The classes are for participants who are over 18. Cost would be $150 but is $100 for DSA members (DSA to cover $50) for all 12 classes. Classes will conclude on-August 4th.                                     Over 18
Saturdays, beginning this Fall on August 15th, 2020 from 1-1:45 p.m. Classes are for participants 12 to 18 years of age.  Cost would be $100 but is $50 for DSA members for all 12 classes (DSA is covering $50). Classes will conclude on November 15th (no classes on Labor Day weekend or Step Up Walk weekend).                                   
                          12 to 18 years of age
RSVP ASAP - classes fill fast!
Parents/caregivers may stay present to assist your child if needed.
*DSA staff may not be present at all classes.
*Payments are made to DSA but all waivers are through Down to Box and are relevant for usage between DSA, Down to Box and Title Boxing.
Title Boxing is located at 3525 N 147th St #103