Bellevue Baseball Buddies at Werner Park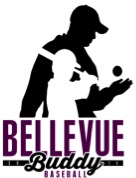 ***Registration Deadline is May 28th at Midnight!***
The High School baseball teams of Bellevue East and Bellevue West, in collaboration with the Down Syndrome Alliance of the Midlands, will play the 6th annual Buddy Baseball game to benefit children with Down syndrome from the surrounding community and provide a day of special fellowship and fun. The event is planned for ages 3-15, but all ages are welcome!
Groups of two-three players are matched with a child, "buddy" from DSA. Parents cheer from the stands while players assist their buddy with hitting, running, and fielding. The buddies are announced over the loud speaker individually, and the national anthem will be sung live prior to the game.
Each child will receive a Buddy baseball t-shirt, a goodies bag full of fun gifts to take home. After the game, players, buddies, and their families will enjoy a summer picnic at Werner Park. A special appearance by the Storm Chasers and Stormy the mascot will round out the morning.
The high school players, coaches, and volunteers look forward to making this a special day for all the children and families.