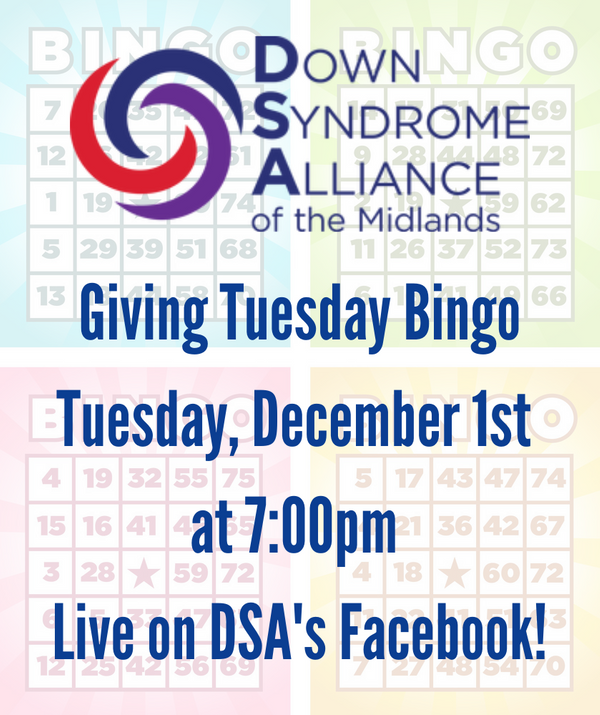 GIVING TUESDAY BINGO
Tuesday, December 1st at 7:00pm CST
$20 for 4 games of BINGO
$100+ Prize Pack for the winner of each round
All funds raised will go to our financial assistance programs:
Extended Hospital Stay Meal Assistance
Recreation Therapy Scholarship
COVID-19 Relief
---

Details
Bingo Cards:
You will receive your bingo card via mail or email depending on what you selected at registration. Last day to register with cards through the mail is Sunday, November 22nd.
You will have one bingo card for all 4 games. If you elected mail, I will send 4 copies of the same card for you. If you choose email, I would suggest printing out 4 copies for the games.
Game Play: 
Bingo will start at 7:00 on the Down Syndrome Alliance of the Midlands Facebook page LIVE
https://www.facebook.com/omahadownsyndrome
During our facebook live, when someone gets a bingo, they will comment "BINGO Card #___".

Each card will be tracked by name of person that purchased and card number. 
Bingo will go to the first person that comments.
We will double check the bingo before moving on to the next bingo game. 
Prizes:
Each round will have a prize package worth over $100! 
Lazlo's and The Amazing Pizza Machine gift cards, Creighton Baseball Season Tickets, Bottles of Wine and accessories, Fun socks and more!
---