Blog
Jennifer Koley's Blog
Posted on 08/01/2013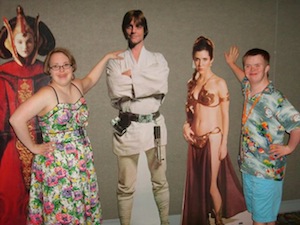 I just came back from a totally awesome Down Syndrome convention in Denver CO. This convention was the biggest ever; more than 300 self advocates attended. There were over 1,100 people at the Saturday night banquette. They had lots of fun workshops like stage makeup, dancing, martial arts, yoga… The dances were a blast, and meeting new people was a thrill. The talent show was the best way to end the convention on Sunday. I hope you think about attending the convention next summer in Indianapolis IN (Also the home of my brother and his family).
At the convention, I learned about an annual conference at sea called Buddy Cruise, with speakers, lessons and events for everyone. There is even a Buddy Walk at Sea! Royal Caribbean's Grandeur of the Seas will sail from Baltimore to Bermuda October 11-17th, 2013. This is definitely on my wish list.
For more information about the Buddy Cruise, visit their website at www.buddycruise.org.