Buddy Walk Registration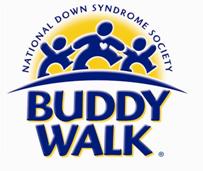 10-4-14 at Stinson Park
The Buddy Walk® was established in 1995 by the National Down Syndrome Society to celebrate Down Syndrome Awareness Month in October and to promote acceptance and inclusion of people with Down syndrome.
The Buddy Walk has not only become the premier advocacy event for Down syndrome, but also the world's most widely recognized public awareness program for the Down syndrome community.
The purpose of the public awareness campaign at NDSS is to ignite a new way of thinking about people who have Down syndrome. Over the past decade the Buddy Walk has served as a national portal for disseminating positive messages and inspirational stories within the Down syndrome community to the general public. It has attracted the attention of national and local media outlets, and each year its visibility has elevated significantly. The Buddy Walk is an essential platform for bringing the community together at the same time, attracting new constituents and members.
In 2001, local families organized the first Omaha Buddy Walk. What started as a small event in a local park has grown into a large celebration held at increasingly larger venues. Over 2,500 participants enjoy a carnival atmosphere while supporting our network of over 350 families.
The Omaha Buddy Walk is the primary fundraiser for DSA. 93% of the funds raised support our local programs and operating expenses. The remaining 7% supports the national research and advocacy efforts of NDSS.